Packaged Pump Stations – S Range
The Advantage S-Range of standard packaged pump stations are suitable for residential developments as well as commercial and industrial applications.
S-Range packaged pump stations are available in single or twin pump units supplied within a polyethylene or GRP underground chamber. They form part of the Advantage family of packaged pump stations which have been designed with common usage requirements in mind.
All Advantage package pump stations have been developed for ease of maintenance. This includes the incorporation of guide rail pumping units in large systems, allowing for easy access to the system and removal of necessary equipment. Internal pipework, isolation and non-return valves are installed as standard in Advantage pumping chambers. The S-range conforms to the British standard BS EN: 752:2008.
Packaged pump stations are designed to be installed underground to pump primarily foul and surface water off or around sites when gravity drainage is not possible. The system works by the liquid flowing into the tank and when the level rises is triggers the level control. The pumps then start up and pump the liquid out through a rising main to the discharge manhole. Once the level drops to the stop level the pumps stop pumping out.
Advantage's Packaged Pump Stations have been designed to provide a reliable solution and provide our clients and their clients with peace of mind. The systems have been designed by engineers utilising proven and reliable equipment to make sure the systems operate reliably. Call to speak to one of our technical pumping experts who can help you select the correct pumping station for your requirements.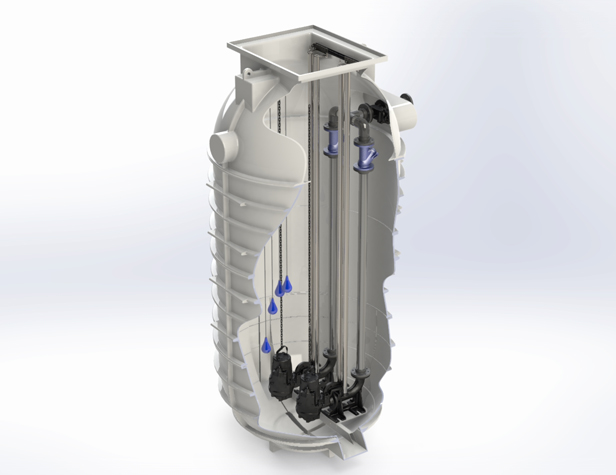 The maximum capabilities of this range of pressure booster sets are:
| | |
| --- | --- |
| Max. diameter of pump chamber | 3.0m |
| Max. depth of pump chamber | 8.0m |
| Max. flow rate from system | 200 l/sec |
Tell Us About Your Project
New Project Enquiry

Existing Project Support