Packaged Pump Stations – H Range
H-Range Package Pump Stations by Advantage have pumps mounted within a horizontal tank allowing larger storage volumes of up to 300,000 litres.
These systems deliver the larger storage capacity and pump system with a single tank reducing installation time and cost. Buildings that accommodate a large number of people will usually require these larger storage requirements to comply with building regulations.
These systems also come into their own when the water table is high and when that may cause problems. These horizontal tanks mean a shallower installation even when a large storage capacity is required.
The H-System can be delivered with an external attached valve chamber – see our C-Range of Package Pump Stations for more information.
All Advantage packaged pump chambers have been developed for ease of maintenance. This includes the incorporation of guide rail pumping units in large systems, allowing for easy access to the system and removal of necessary equipment. Internal pipework, isolation and non-return valves are installed as standard in Advantage pumping chambers. The S-range conforms to the British standard BS EN: 752:2008.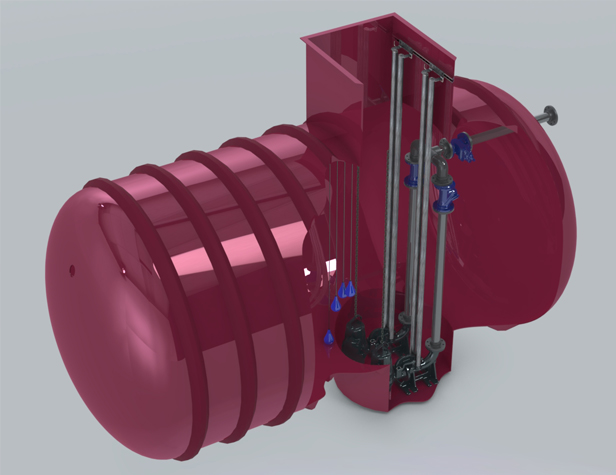 The maximum capabilities of this range of pressure booster sets are:
| | |
| --- | --- |
| Max. diameter of pump chamber | 4.0m |
| Max. length of pump chamber | 19.5m |
| Max. flow rate from system | 200 l/sec |
| Max. storage capacity | 300,000 litres |
Tell Us About Your Project
New Project Enquiry

Existing Project Support