Different Types of Pumping Station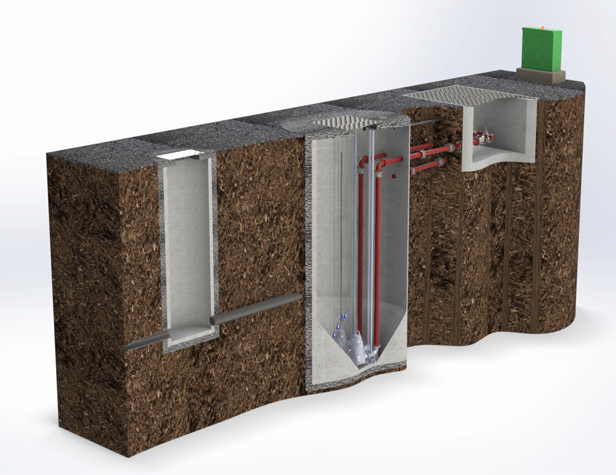 When it comes to choosing the right type of adoptable pumping station for handling foul water and sewage on a residential development, there are four pump station types. These are classified by Sewers For Adoption (SFA) regulations based on the incoming flow rate and number of dwellings the pump serves. For larger developments the KW rating of the pumps is also taken into consideration in the classification.
Type 1 Pumping Station
Pumping stations classified as type 1 have an incoming flow rate of less than 0.25 litres per second.
These pumps are suitable for developments with less than five dwellings.
Type 2 Pumping Station
Class 2 pumping stations handle incoming flow rates greater than 0.25 but less than 1 litre per second.
Depending on the size of the properties these pumps are typically designed for developments of between 6 and 20 dwellings.
Type 3 Pumping Station
All pumps in these pumping stations must be rated at less than 30KW with an incoming flow rate of more than 1 litre per second.
Class 3 pumping stations are usually used on larger developments to serve over 20 dwellings.
Type 4 Pumping Station
These are pump stations that require at least one pump rated at 30KW or above, a wet well deeper than 6 metres or a bespoke design feature.
Typically used for larger residential or commercial developments.
Sewers for Adoption
Pumping stations that are to be adopted by the local water authority post build will need to conform to the Sewers for Adoption regulations, which may included local variations for the adopting water authority. SFA specifications cover the design and installation of the pumping station including:

● Distance from habitable buildings
● Fencing and Security
● Vehicular Access
● Kiosks
● Wet Well
● Access Chambers
● Flow Meters
Different water authorities may have different specifications for each class of adoptable pump station to enable them to be maintained safely and efficiently. Type 4 pump stations fall outside of the SFA regulations and require additional guidance from the adopting water authority.

Advantage Pumping Solutions work in partnership with all the UK water authorities to ensure your adoptable pump station is compliant. Our engineers have many years of technical experience in designing pump systems along with in-depth knowledge of SFA regulations. We will be with you every step of the way from start to finish from the earliest planning stages to the final commissioning visit with the adopting authority.
If you need help choosing or specifying a pump station for your development call us on 0844 414 6646 to speak to one of our engineers or use our online contact form to tell us about your project.